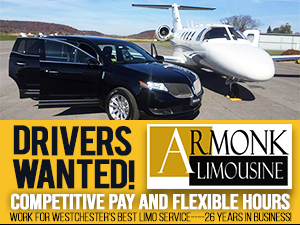 Armonk Limousine Car Service is looking for part time and full time chauffeurs.
Position Requirements:
Clean driving record with DMV printout.
Current Class E Driving License (passenger endorsement are a plus)
Cell Phone/GPS/Email * Ability to work flexible hours
Minimum 25 years of age, due to insurance requirements
Successfully pass a pre-employment drug test and criminal background check
Valid TLC New York or Westchester.
Why work with us?
*We offer flexible hours and scheduling
* A fun and fulfilling career opportunity
* Full time and part time hours
*We are trusted by our clients for exceptional, reliable and safe ground transportation services
*We provide you the vehicles, the insurance and take care of the operational cost.
Job Type: Full-time-Part Time
Location:
Armonk, New York (next to HPN airport)
License:
Driver's License (Required) Class E
TLC or will help apply for one.
Work authorization:
Fill Out This Form and Let's Get Started!